"Threw It Back at Me": F1 Insider Reveals Bizarre Temper Tantrum Thrown by Favorite Driver, as Fans Rage Against the Culprit
The life of F1 drivers is far from easy as they not only have to deal with extreme pressures on-track but also with extensive media attention off-the-track. While handling media, there have been situations when the drivers have lost their cool and decided to storm off. One among them was Nico Hulkenberg and F1 fans have enough support for his actions.
ADVERTISEMENT
Article continues below this ad
The former Renault driver experienced one such incident when he was in an interview with Jess McFadyen.
ADVERTISEMENT
Article continues below this ad
McFadyen is an F1 personality and digital strategist for Motorsport Network. While in an interview with her, Hulkenberg stormed off the scene.
Talking about this, McFadyen conveyed in a video, "He once de-microphoned himself and basically like threw it back at me and was like 'I'm done'."
When asked what led to the German racing driver taking the action, she further stated that she asked Hulkenberg, "Describe how you feel when driving around Baku in an emoji, I think literally something like that and he was like 'Nah I'm done.'
F1 fans slammed the F1 personality for her question
That was not all as Jess McFadyen also whispered 'what's a podium' on the Nico Hulkenberg issue, which enraged the F1 fans. Statistically, the current Aston Martin reserve driver for 2022 has never picked up a podium in his entire F1 career.
McFadyen's whisper at the end was what made F1 fans question her for Hulkenberg's action. A fan commented, "Can't blame Hulk after that question" while another wrote, "I mean that's a dumb question, I don't blame the drivers for being sick of them."
ADVERTISEMENT
Article continues below this ad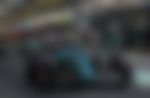 Another fan wrote, "I am with Hulk in that case," while another fan wrote "The drivers have to do a lot of media duty, no driver wants to answer questions like that. No need to disrespect a driver like that."
The series of comments continued as another fan wrote, "I mean Drivers are getting tens of media work every day and are super busy and sometimes have to delay things to do media work and then you get questions like that I don't blame him."
ADVERTISEMENT
Article continues below this ad
WATCH THIS STORY: Helmut Marko blasts Lewis Hamilton for role in Michael Masi sacking
All in all, the F1 fans certainly didn't like the way Nico Hulkenberg was questioned and supported the former Force India driver for walking away from the interview.