Special week lined up for club's 100th anniversary
Incorporated on Aug. 9, 1922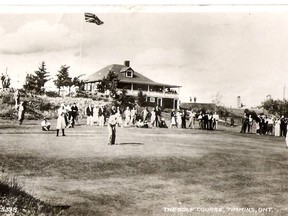 Article content
The Hollinger Golf Club is celebrating its century anniversary with a number of special events planned this week.
Article content
That course opened 100 years ago on Aug. 9 as the Timmins Golf Club.
After the mine closed and the facility was sold to its membership in 1974, the facility was renamed Hollinger Golf Club.
"Starting on Sunday, Aug. 7, we're doing a members appreciation day. It's open to all Hollinger members where they can play a shotgun at 9 am or 1 pm," explained Taylor Dupuis, general manager of golf operation at the Hollinger Golf Club.
"We're going to have a little champagne brunch in between where we'll do a couple of speeches, recognitions of some people who have been here for a long time and who have contributed a lot to the club.
"On members' day, we're also going to be giving away a 2023 Hollinger membership.
"So that will be the Sunday and then we'll have our usual socials — our ladies night on Tuesday, our men's night on Wednesday — but obviously we'll dress it up a little more with it being 100th anniversary week."
The 100th anniversary of the club's incorporation coincides with ladies' night.
Dupuis said some of the special events planned next week include live entertainment and opportunities to socialize.
There are plenty of souvenirs if people want mementos of the club's century celebration.
"In the pro shop, we've brought in a lot of merchandise this year: Wine glasses, golf shirts, hats, miscellaneous items with the 100th anniversary logo. It's gone over really well," said Dupuis.
This year, the club has about 250 members.
Article content
"A lot of people who come from out of town are blown away by the conditions of this little gem we have here hidden in Timmins, behind a mine pit … They can't imagine how green the course is and the conditions of our greens and fairways. To be able to come play a course of this caliber at a very reasonable price, we think it's the best thing going here in terms of golf in Northern Ontario."
Dupuis described it as a "very strategic course. You've got to be strategic with your shot places — just the way the landscape is and how some of the holes are placed."
There are a lot of contours the ball will have to go around.
"That's how a lot of our holes are. So our Front 9 is nicknamed 'The Highlands' because there's a lot of gradual climbing and then a beautiful hole is No. 6 where eventually you come back down and your second shot on that hole is overlooking the City of Timmins and the hole itself.
"And then the Back 9 is known as 'The Lakelands.' I believe there are 12 ponds on the Back 9 alone — so, a lot of strategic shots.
The picturesque surroundings combined by the challenges posed are what keeps bringing golfers back, said Dupuis.
"Once you get up to the first tee it is really something to see. So when we do get out-of-towners or first-time players here, and they come back after and they say, 'You guys really have something here and it's a hidden gem' — and we hear it often — whenever we do hear that from new golfers or people we haven't had before, it really resonates. It's a good feeling because you like to appreciate what you have in your own backyard and we're definitely proud of the product that we have.
"That's what is special about this course. It appeals to all the golfers. It's not this long course where the casual golfer can't get their ball to the green. But it's also not a wide-open course where these long-ball hitters can have just bombs away all day. It's a nice in-between hybrid and we find our members have enjoyed it and keep coming back.