Live Updates & Results from the Mont-Sainte-Anne DH World Cup 2022
The seventh round of the 2022 downhill World Cup is underway at Mont-Sainte-Anne. In the Junior Men's racing, Jackson Goldstone secured the win on home soil and we believe he also took the 2022 overall title. Jordan Williams crossed the line just under four seconds back with Bodhi Kuhn completing the top three. Phoebe Gale took the win in the Junior Women's race with a dominant run and a gap of almost seven seconds to Izabela Yankova. Gracey Hemstreet ended the weekend in third and will still be chasing the overall at the final round.
Vali Höll takes another win this year as she pulled over three seconds ahead of a hard-charging Nina Hoffmann. Eleonora Farina was the only other rider to beat the fastest qualifying run and crossed the line in third. Myriam Nicole was leading even against Vali by over two seconds after split two but a flat tire took away her chance of a win.
Stay tuned for live results and updates.
---
Live timing is available here.
---
Results:
---
Elite Women
---
1st
Vali Höll: 4:56.012
2nd
Nina Hoffmann: 4:59.159
3rd
Eleonora Farina: 5:00.522
4th
Jess Blewitt: 5:11.908
5 th
Monika Hrastnik: 5:12.210
---
Junior Women
---
1st
Phoebe Gale: 5:09.223
2nd
Izabela Yankova: 5:16.084
3rd
Gracey Hemstreet: 5:16.805
4th
Valentina Roa Sanchez: 5:27.466
5 th
Aimee Kenyon: 5:28.439
---
Junior Men
---
1st
Jackson Goldstone: 4:13.766
2nd
Jordan Williams: 4:17.566
3rd
Bodhi Kuhn: 4:20.302
4th
Lachlan Stevens-McNab: 4:26.463
5 th
Ryan Pinkerton: 4:26.966
---
Full Results:
Elite Women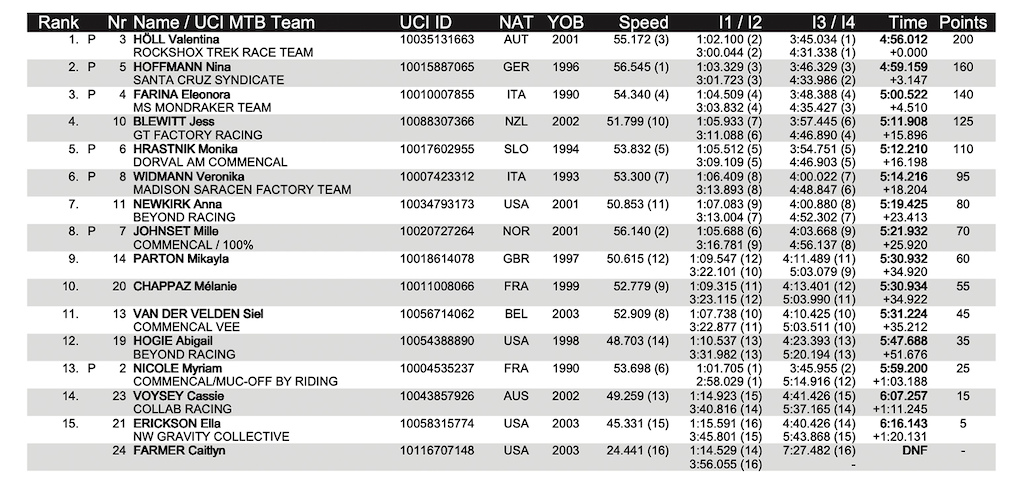 Junior Women

Junior Men
---
Live Race Updates:
Stay tuned for live updates and results from the Mont-Sainte-Anne DH World Cup
The Elite Women's racing kicks off at: PDT 10:25 AM / EDT 12:25 PM / BST 5:25 PM / CEST 6:25 PM
The Elite Men will start at: PDT 11:45 AM / EDT 1:45 PM / BST 6:45 PM / CEST 7:45 PM
Elite Women
First up in the Elite racing is the Women and we could be in for some fast times as the course is drying out. With Camille Balanche out with an injury the overall is wide open for the taking.
---
Course Preview:
---
Top Five from Qualifying:
1st Vali Höll: 5:04.032
2nd Monika Hrastnik: 5:17.998
3rd Nina Hoffmann: 5:19.624
4th Myriam Nicole: 5:22.463
5 th Jess Blewitt: 5:23.439
---
Who do you think will win?:
Who do you think will win today's racing? Will we see someone new take the top step of the podium?
---
Race Updates:
9:30am PDT The Elite Women are now on course as Caitlyn Farmer kicks off the racing.
9:41am PDT After the first six riders the top five are:
1st Mélanie Chappaz: 5:30.934
2nd Siel Van Der Velden: 5:31.224
3rd Abigail Hogie: 5:47.688
4th Cassie Voysey: 6:07.257
5 th Ella Erickson: 6:16.143
9:46am PDT Mikayla Parton is the first of the top ten riders to hit the course and she goes into the lead by just 0.002 seconds!
9:48am PDT After not completing a full qualifying run Mille Johnset flies into the top spot so far by nine seconds.
9:51am PDT It's now Anna Newkirk who goes fastest with a gap of 2.5 seconds back to Mille Johnset.
9:53am PDT Veronika Widmann takes the lead by over five seconds. Veronika is still ten seconds off Vali Höll's qualifying run.
9:56am PDT Eleonora Farina was flying but a few stalls in the rock garden did lose quite a bit of time. Eleonora still crosses the line a massive 13.6 seconds up. Vali's qualifying run has now been beaten by four seconds.
9:57am PDT With five riders left the top five are:
1st Eleonora Farina: 5:00.522
2nd Veronika Widmann: 5:14.216
3rd Anna Newkirk: 5:19.425
4th Mile Johnsett: 5:21.932
5 th Mikayla Parton: 5:30.932
10:00am PDT Jess Blewitt is over 11 seconds back but this is still good enough for 2nd place so far.
10:01am PDT Myriam Nicole is looking good at the top of the course as she sits almost six seconds up at split two.
10:02am PDT A flat rear tire for Myriam Nicole! This will really mess up the overall standings.
10:07am PDT Nina Hoffmann takes the lead by 1.3 seconds! We still have two riders left so it will definitely be a top-three finish for Nina.
10:11am PDT Big trouble for Monika Hrastnik through the rocks as she comes to a complete stop. Monika is still fourth at the next split.
10:11am PDT Monika Hrastnik crosses the line in fourth place with only Vali Höll left.
10:13am PDT Vali Höll is 1.6 up at split two, this is going to be close.
10:15am PDT Vali Höll wins the Mont-Sainte-Anne World Cup!
Elite Men
Closing out the racing is the Men and after the Elite Women's race the course is looking very fast. We are sure to get some wild runs today from the top Elite Men.
---
Inside the Tape:
Before we get to the last riders check the lines Ben Cathro has found out on the course.
---
Top Five from Qualifying:
1st Finn Islands: 4:17.842
2nd Greg Minnaar: 4:21.082
3rd Amaury Pierron: 4:22.571
4th Troy Brosnan: 4:22.910
5 th Bernard Kerr: 4:24.102
---
Race Updates:
11:03am PDT With 30 riders left the top five are:
1st Ronan Dunne: 4:22.834
2nd Mark Wallace: 4:23.459
3rd Phil Atwill: 4:23.877
4th Austin Dooley: 4:24.139
5 th Kirk McDowall: 4:24.964
11:16am PDT Oliver Zwar takes the lead by just 0.5 seconds.
11:18am PDT Kye A'Hern already beats Zwar to go over a second into the lead.
---
.