Golf tourney providing some green for TADH's Diagnostic Imaging Department
John P. Larche Annual Charity Golf Classic taking place this Thursday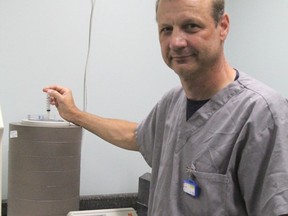 Article content
Proceeds from next week's sold-out John P. Larche Annual Charity Golf Classic will cover the full cost of two vital pieces of medical equipment for Timmins and District Hospital.
Article content
"This tournament is being held to support the Diagnostic Imaging Department, and so John (Wright, the department's manager) has gone through his list of items that are required, and these are the two highest priorities at this time," explained Barb McCormick, manager of donor relations, Timmins and District Hospital Foundation.
The 13th-annual John P. Larche Annual Charity Golf Classic will take place Thursday at Spruce Needles Golf Club.
Funds raised through this year's tournament will support the purchase of a nuclear medicine dose calibrator and a TIMS unit for the Medical Imaging and Cardiopulmonary Department.
McCormick said the combined cost of the two pieces of equipment is somewhere between $50,000 and $60,000.
Wright explained, the TIMS unit is used to produce X-ray videos of how organs or internal processes are functioning.
"For example, if someone is having trouble swallowing, we'll go through a test with them where we record the swallowing process with X-ray. This add-on for the imaging chain allows us to record the X-ray … so that speech/language pathologist, physicians and radiologists can come to a diagnosis."
Wright said they are replacing a unit that is 10 to 15 years old and has become technologically outdated.
"The current system we have is no longer supported; it's the end of life," he explained. "If it breaks, we're going to have to make an emergency purchase, so this is being proactive so that way, we're not without service."
Article content
Jozef Nycz, lead nuclear medicine technologist at TADH, explained the dose calibrator which the tournament is also paying for, is used to "measure the radioactive content of the liquid that we use" to either "scan people diagnostically or treat them therapeutically."
"We perform a variety of heart scans, cancer scans, kidney scans, bone scans, or pulmonary tests."
Nycz said the unit being replaced is about 20 years old.
"Circuitry after many years does begin to wear out and you have to make sure it is giving you the most accurate reading. So it's in our best interest to maintain replacement on a regular basis."
Nycz explained, "Here in Timmins, we perform our own radiopharmacy" which refers to the production of pharmaceuticals that are tagged with radioactivity for medical use.
"I think the important piece here," added Wright, "is a lot of centers in Southern Ontario or even Central Ontario have access to larger radiopharmacies. And because we are so remote, being able to keep these tests close to home, it is important to have a dose calibrator. Without it, we wouldn't have a functioning department."
As for the upcoming charity tournament which will cover the costs of these two items, McCormick said there are 25 teams registered. Each team has four players. She said there will also be "volunteers and special guests who are attending from their supply chain."
Registration on the day of the tournament will begin at 11:30 am followed by a shotgun start at 12:30 pm
McCormick said, "Everyone will spend the afternoon on the course for their 18 holes, followed by a buffet dinner which will be outside in the garden tent."